Central Okanagan Monthly Real Estate Market Summary – January 2023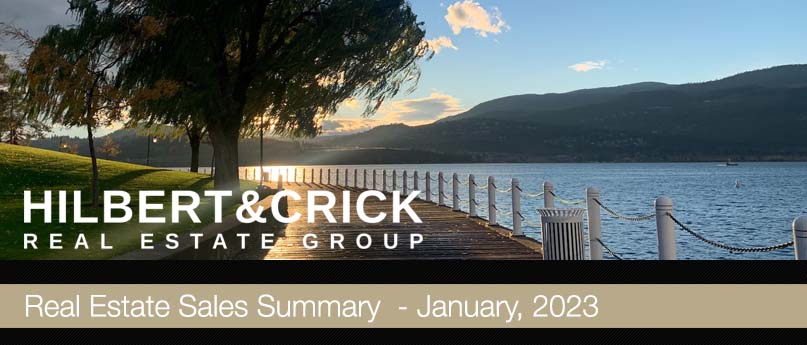 The first month of 2023 saw January real estate sales in Kelowna and Central Okanagan continue to decline. As we noted in last month's real estate market summary, rising interest rates and inflation continue to keep buyers on the sidelines. Many are questioning whether now is the right time to buy or sell their Kelowna real estate. The numbers indicate that inventory and housing supply are on the rise. Sales and the benchmark price are going down across all property types. All signs point to Kelowna being in a buyer's market, similar to the rest of Canadian real estate markets.
Keep reading to learn more about the numbers that January generated along with how to get in touch with us to learn about how this affects you specifically!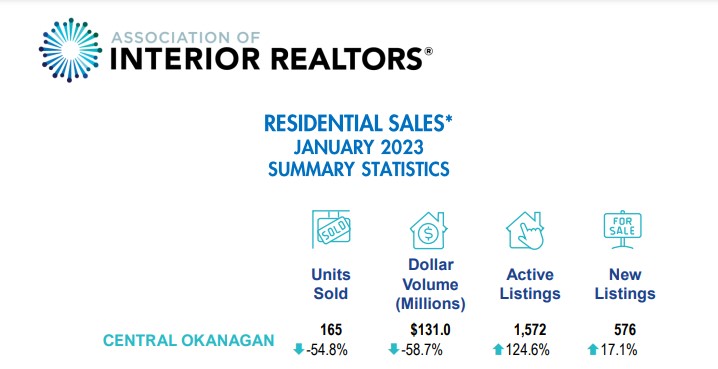 Benchmark prices and sales are down. Days to sell and inventory are up.
As predicted last month, inventory continues to be the biggest bonus to the real estate market these days! In fact, there were 1354 new properties added to the housing supply in the first month of 2023. These properties are allowing some buyers to breathe easier as they can finally find a home that ticks all of their boxes. Not only can they find the home that they want, but they're also taking more time to decide when they do find it. The days to sell have crept up by over 50% in each market segment. This indicates that buyers are taking more time with their purchases whether it be to secure financing, perform house inspections or simply take more time to shop around. It's a buyer's market out there, so using a real estate team like Hilbert&Crick is the best way to ensure you aren't leaving anything on the table when you list your home for sale.
The benchmark price for a single-family home in Central Okanagan decreased in January and was down 7.9% to $976,800. Condos and townhomes in Kelowna saw their benchmark price decrease to $492,900 and $741,6000 respectively. Inventory, on the other hand, continues to rise. Single-family homes saw 699 properties added to the market making for an increase of 161.8% this month. Townhomes and condos saw inventory jumps as well. Townhomes saw an additional 230 units added while condos saw 425 new units add to the available housing supply. The days on average to sell a home in Kelowna is up to 81 for single-family, and 56 for townhomes. Condos are taking an average of 65 days to sell.
If you want to learn more about how you can prepare for selling your home then contact our team today. We would love to talk to you more about what to expect in the next few months.
Learn more about us and how are selling action plan can get you through any Kelowna real estate market!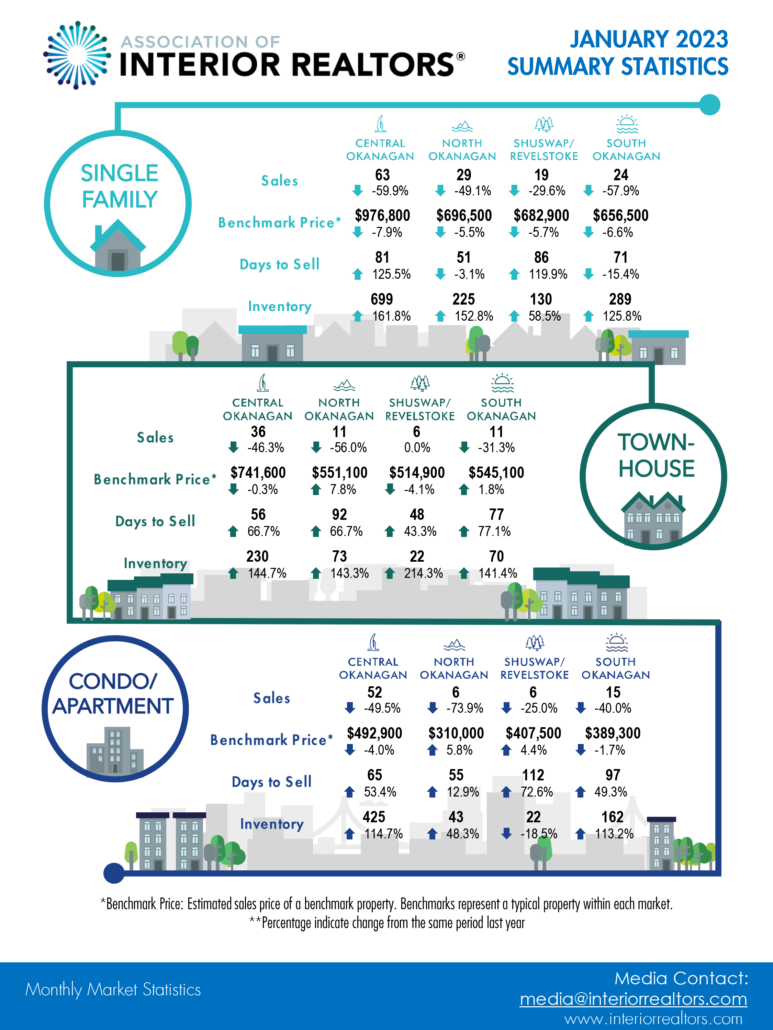 https://hilbertcrick.ca/wp-content/uploads/2023/02/real-estate-sales-in-Kelowna-january-2023-1.jpg
345
807
EstateVue
https://hilbertcrick.ca/wp-content/uploads/2023/01/HC-FINAL-300x86.png
EstateVue
2023-02-28 17:24:44
2023-02-28 17:24:51
Central Okanagan Monthly Real Estate Market Summary – January 2023