Central Okanagan Monthly Real Estate Market Summary – March 2023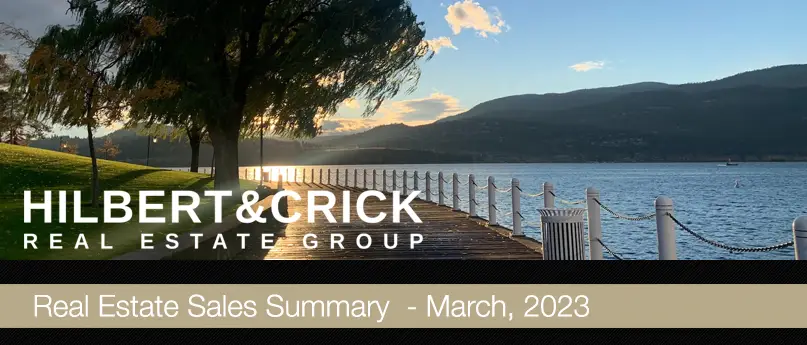 What's happenend in Kelowna real estate in March? Real estate sales in Central Okanagan are up from last month and down from the year previous. Overall, the data is showing that the market is heading in the right direction. There were 421 units sold across Central Okanagan and Kelowna. Inventory is sitting at 1929 units with 954 new units added to the market. New listings are slightly down, however, overall listings are up compared to the same time last year. Buyers continue to have more selection in the Kelowna real estate market.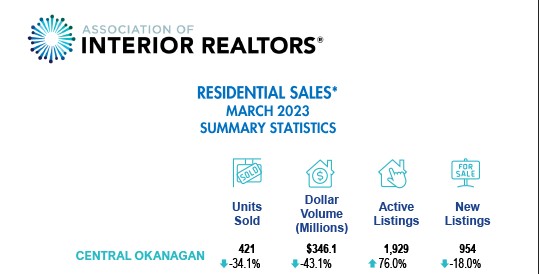 Sales activity is down from last year and up from last month.
The Association of Interior REALTORS® President Lyndi Cruickshank explains more about March's recent real estate sales data.
"The upwards movement in sales activity compared to the previous month is showing signs that market
activity is on its way to recovering from the previous month's slump, while still maintaining healthy market
activity," says the Association of Interior REALTORS® President Lyndi Cruickshank, adding that "a more
balanced market allows both parties to confidently move forward with their real estate aspirations."
The benchmark price for a single-family home in Central Okanagan was down 14.3% to $1,001,500. Central Okanagan townhomes and condos saw their benchmark price decrease to $492,600 and $703,200 respectively. There were 875 single-family homes added to the market making for an increase of 77.8% in March. Townhomes had 272 units added to the market and condos saw 497 new units add to the real estate supply. The days to sell a home in Central Okanagan remain slightly down or the same from last month across all verticals. However, the days to sell are drastically longer than the same time last year. This is good news as it shows that buyers and sellers are taking more time to make appropriate decisions on buying and selling real estate in Kelowna.
If you want to learn more about how you can prepare for selling your home then contact us today. We would love to talk to you more about what to expect as the spring market continues to heat up!
Learn more about our real estate team in Kelowna and how we can help you buy and sell with confidence!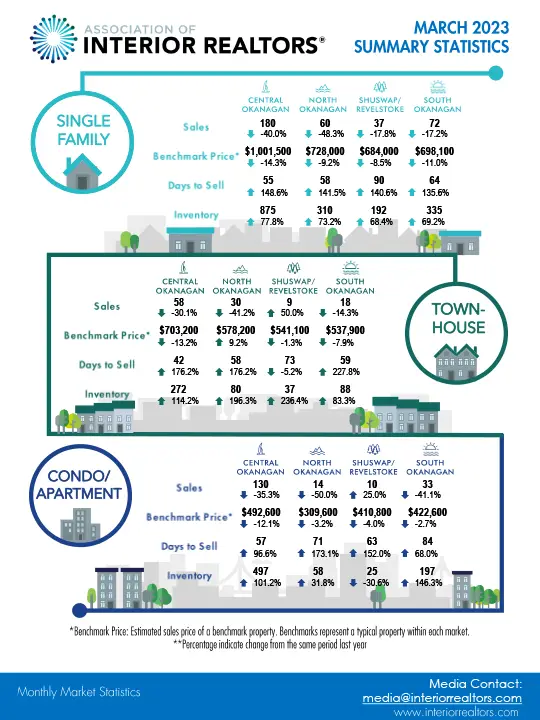 https://hilbertcrick.ca/wp-content/uploads/2023/04/march-real-estate-sales-stats-kelowna-central-okanagan-.webp
345
807
EstateVue
https://hilbertcrick.ca/wp-content/uploads/2023/01/HC-FINAL-300x86.png
EstateVue
2023-04-11 17:37:56
2023-04-11 10:40:40
Central Okanagan Monthly Real Estate Market Summary – March 2023