Central Okanagan Monthly Real Estate Market Summary – February 2023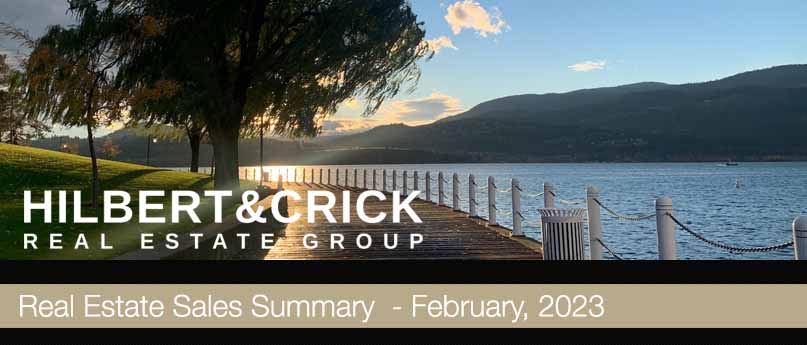 February was a month dedicated to showing signs that the real estate market in Kelowna is on track to normalize. Sales were down considerably from the same month in 2022. This was when we saw record-low inventory coupled with record-high sales demand. However, it's important to note that this very short month saw an overall increase in sales across the region. Especially, when we compare this month to January one month prior. Keep reading and learn more about how February is showing us what a consistent Kelowna real estate market looks like. We'll continue to provide advice for buyers and sellers as we get accustomed to seeing normalized activity. We would love for you to get in touch with us! Our real estate team can explain more about how the real estate market affects your specific situation!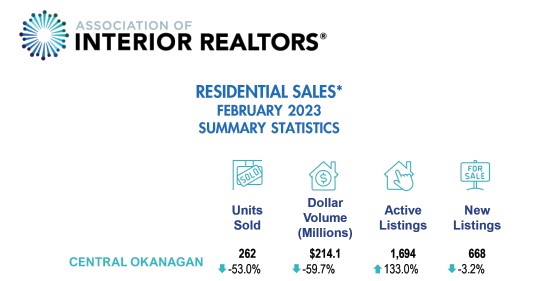 Benchmark prices and sales are down from last year and up from last month.
The Association of Interior REALTORS® President Lyndi Cruickshank, reiterates the positive takeaways from February's recent sales data.
"The uptick in sales activity compared to the previous month suggests that we are heading in a positive
direction," says the Association of Interior REALTORS® President Lyndi Cruickshank, adding that "the
overstimulated boom of the last few years, along with multiple mortgage rate hikes made many buyers and
sellers hesitant to make any moves. Now that the dust is starting to settle, these buyers and sellers can move
forward in a transitionally healthier real estate market more reminiscent of pre-pandemic conditions."
The benchmark price for a single-family home in Central Okanagan decreased in February and was down 14.1% to $971,300. Central Okanagan townhomes and condos saw their benchmark price decrease to $496,300 and $742,200 respectively. Inventory, on the other hand, continues to rise. Single-family homes saw 760 properties added to the market making for an increase of 161.8% this month. Townhomes and condos saw inventory jumps as well. Townhomes saw an additional 242 units added while condos saw 465 new units add to the available housing supply. The days on average to sell a home in Kelowna rests at 61 for single-family, and 42 for townhomes. Condos take an average of 76 days to sell.
If you want to learn more about how you can prepare for selling your home then contact our team today. We would love to talk to you more about what to expect this spring.
Learn more about us and how are selling action plan can get you through any Kelowna real estate market!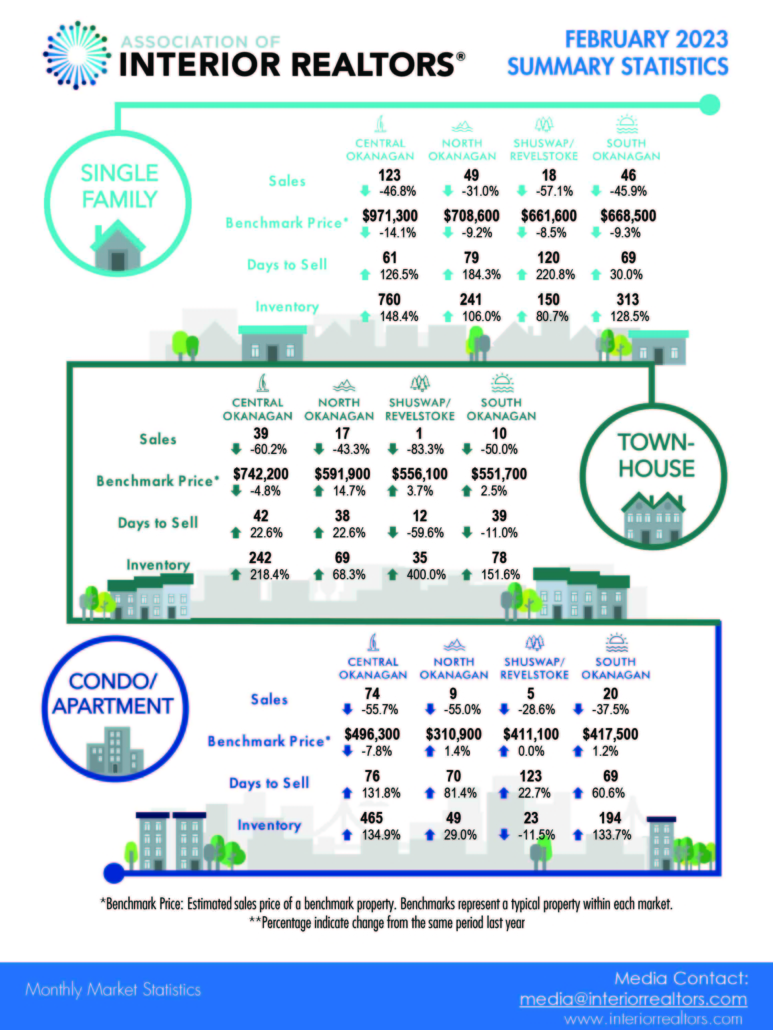 https://hilbertcrick.ca/wp-content/uploads/2023/03/february-real-estate-kelowna-sales-data.jpg
345
807
EstateVue
https://hilbertcrick.ca/wp-content/uploads/2023/01/HC-FINAL-300x86.png
EstateVue
2023-03-09 20:50:32
2023-03-09 21:18:11
Central Okanagan Monthly Real Estate Market Summary – February 2023